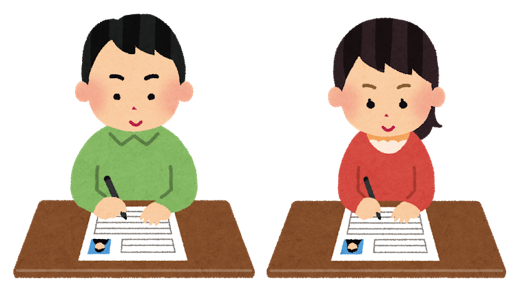 It is hard to write CV or resume, but it is crucial for applying for jobs. For interviewees, these resumes decide your first impression and play a big role in deciding whether to hire you.

We are going to introduce the important points of resumes.
① Work experience
Unlike hiring new graduates, work experience is the most important aspect of mid-career recruitment.

Tips:
・Fill in all the companies that you have worked for, including the companies that you only stayed for a short amount of time.
・ Do not abbreviate the company names
・ Writing in chronological order
・ Briefly explain the reason why you quitted your former jobs
・ If you are still currently employed, fill in "退職予定"or"現在に至る".
・ Write "以上"at the final line
② Motivation
The motivation is like a "love letter" from the applicant to the company. The company that wants to o know "Why have you selected our company among so many companies?" The recruiter's purpose is to understand your motivation and determine whether the applicant has enthusiasm and matches the desired character.

Motivation composition
・ Reason for selecting the company: You should combine the reasons for changing jobs with your past achievements / skills to explain why you want to apply for this enterprise.
・ Career vision after joining the company
③ Self-promotion
Selling yourself to the other party and getting it approved.

Tips
・ Show specific episodes to appeal
・ Narrow down to only one episode
・ If the number of words is not specified, write about 400 words
④ ID photo
The ID photo determines your first impression. Since the photo is not only the first place in the resume, but it also shows whether you have common sense. The interviewer is just a human being, so they are interested in the appearance. Furthermore, the photo is the only part has color in the resume, it will definitely stand out.

Tips:
・ Cleanness: Please refer to 【Interview clothes, hairstyle, makeup】 published on September 20th on our Facebook page.
・ Energetic impression: Aim for a natural smile. You are not supposed to open your mouth to show your teeth. If you are unfamiliar with smile, practice in front of the mirror.
⑤ Overall balance
Rather than focusing on whether your handwriting is pretty, it is more important to write sincere contents. In addition, for those who are changing jobs, the hope column is a mandatory item. "希望欄" this column is where you can explain your expected salary to the company.

Tips to make your handwriting in Japanese beautifully
・ Kanji should be written larger than Hiragana / Katakana
・ Characters with a small number of strokes should be small and characters with a large number of strokes should be written large.