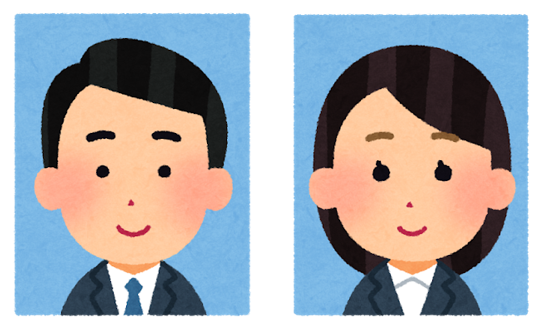 So far, we have introduced various kinds of interview manner, and today we are going to learn about how to dress for a job interview, including appropriate attire for an interview for employment for men and women for formal job interviews.

Basic Manner
・ Cleanness
Clothes that are not clean will not give a good impression to the interviewee. You have to be careful about the stains, wrinkles and smell of your suit.

・ Wear a suit that does not fit
Wearing a loose outfit makes a bad impression.

Attire for men & women
・ Suit
If you are interviewing for a job change, the basic color is dark gray or navy. If you are interviewing as a new graduate, the basic color is black. Avoid bright and flashy designs! A calm color is common.

・ Shirt
The basic color is white. Showy colors and unusual designs are NG. Let's be careful whether there is stain.

・ Top and bottom
Please wear formal full suit sets.【Women】Either skirt or pants is fine, but don't wear mini skirt, long skirt, or anything trendy. The length of the skirt should be around or beneath the height of your knees.・ Necktie
Don't wear any ties with polka-dot patterns or huge patterns. Avoid bright colors, such as pink, purple, etc.

・ Bag
The basic bag size is A4 size with calm colors such as black, dark blue and brown. Choose a bag that will be self-supporting when placed on the floor.

・ Shoes
【Men】Leather Oxford shoes are appropriate.
【Women】Black pumps are appropriate.

Hairstyles for men & women
・ Color
The color should be natural so that people cannot tell that whether you have dyed your hair.

・ Bang
The point is not covering your eyes.

・ Length
【Men】Avoid long hair! Let's keep freshness and cleanness!
【Women】Tuck your hair behind your ears. The height of your ponytail should be lower than your eyes.

Makeup
・ Eyeshadow
It is good to make gradation with natural colors. Please refrain from those with conspicuous colors and glitter.

・ Eyeliner
Use black or dark brown to make it natural.

・ Foundation
Choose a color that is close to your natural skin tone.

・ Eyebrow
Use grey or dark brown to match your hair color.

・ Mascara
Apply your lashes naturally and don't wear false lashes.

・ Lip
Orange, pink or beige tone would be appropriate for lip color. Avoid lip gloss, dry and crispy lips, and Too bright colors.

・ Cheek
Natural pink or orange tone is recommended.